Posted by Rob Tamburro on 13th Sep 2023
Living in an urban environment can significantly impact the health of your hair and scalp. High levels of pollution, dust, soot, and overexposure to UV radiation, which are common aspects of city living, can significantly affect the well-being of your hair and scalp and lead to issues like hair loss.
As a person who is out and about in the city, you need to focus on healthy scalp treatment and deep conditioning scalp care for hair growth to combat these urban aggressors.
In this blog, we look at how urban environments affect our hair health and present a comprehensive guide to maintaining a healthy hair care routine for damaged hair.
Effects of Pollution on Hair & Scalp
Pollutants like dust, soot, and grime stick to the hair's surface, penetrating the follicles and settling onto the scalp. As these pollutants enter the hair fibre, they cause chemical harm to the cuticle and the keratin proteins constituting the hair. This results in hair appearing rough, brittle, and lacking lustre.
Moreover, pollution deposits contribute to scalp discomfort, itching, excessive sebum production, and dandruff. This can clog the follicles, weakening the hair at its roots and rendering it more susceptible to breakage and shedding.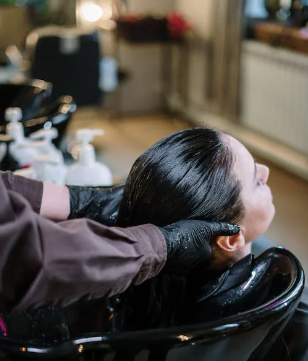 Impact of UV Radiation on Hair & Scalp
UV radiation primarily targets the melanin pigment and protein components within the hair. This can lead to the hair's structural integrity degradation, resulting in weakened hair protein structures and reduced tensile strength.
Prolonged exposure to UV rays can also deplete the fatty acids in the hair cuticles, which provide softness and shine. As a result, hair becomes fragile, loses its shine, encounters surface friction, and becomes challenging to manage.
Establishing a Healthy Hair Routine
Ever wondered how to get a healthy scalp naturally? You need to come up with a personalised hair care routine for growth using the best hair care products in Australia.
Use products suitable for your hair and scalp type, and try to incorporate only natural products into your routine. Refrain from using products that contain any chemicals, parabens, and sulphates.
Cleansing
Cleansing, either through shampoo or cleansers, effectively removes dead skin cells and the buildup of pollutants without excessively stripping the hair of its natural oils. In the absence of proper cleansing, excess sebum can accumulate, resulting in unwanted greasiness.
Conditioning
Conditioners offer a range of benefits, including deeply hydrating and moisturising the hair follicles. This facilitates easy detangling and reduces frizz.
Locking in Moisture
Use a hair serum or hair cream, along with a sealing oil, on damp hair to retain moisture and further enhance hydration. This is particularly advisable for individuals with curly or dry hair.
Hair Oils
Hair oils provide essential nutrition to the scalp. Coconut oil is renowned for providing intense hydration and protein to hair follicles, safeguarding against breakage. Massaging the oil onto the scalp and hair strands can enhance blood circulation and stimulate regrowth. You can get a hot oil massage as part of your monthly salon hair care and see the difference.
Conclusion
Living in urban neighbourhoods is bound to cause damage to your hair and scalp health. While you cannot change your residing location, managing the negative effects of pollution and UV radiation by following a healthy hair care routine is possible.
Do your own research to determine the most suitable product for your hair and scalp type. Discover the best scalp treatment dermatologist-recommended products.
Rokk Shop is your one-stop destination for all the best hair care products in Australia. Shop now to begin your hair and scalp care journey!